20×45 house plan is made by our expert civil engineers and architects according to the requirements of our customers. This duplex house plan is made by considering all ventilation and privacy. If you have the same 20×45 feet plot area and planning to buy a new floor plan for your dream house, This post is going to save your money.
This 20×45 house plan is a duplex house plan that means it has two floors. Each floor has a number of rooms and the sizes of those rooms are as follows.
20×45 Duplex House Plan: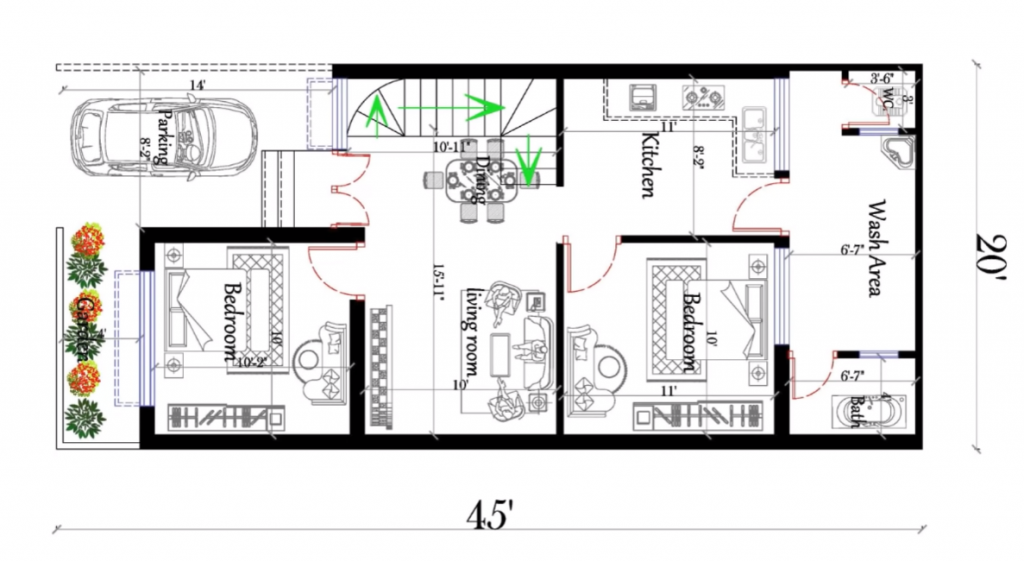 The sizes of each room are as follows:
Living Room: 15'11″x10′ feet.
Bedroom 1: 10'x10'2″ feet.
Bedroom 2: 10'x11′ feet.
Kitchen: 8'2″x11′ feet.
Parking: 8'2″x14′ feet.
W.C: 3'x3'6″ feet.
Bath: 4'x6'7″ feet.
These were the sizes of each room of this 20×45 duplex house plan. If you want to get detailed information about this 20×45 house plan you can watch this video.
I hope you understand the information we shared about the 20×45 duplex house plan. And thank you for seeing our post. Must share this if any of your friend or relative needs to know about this. Also visit our Youtube channel by clicking this link, DK3DHOMEDESIGN.