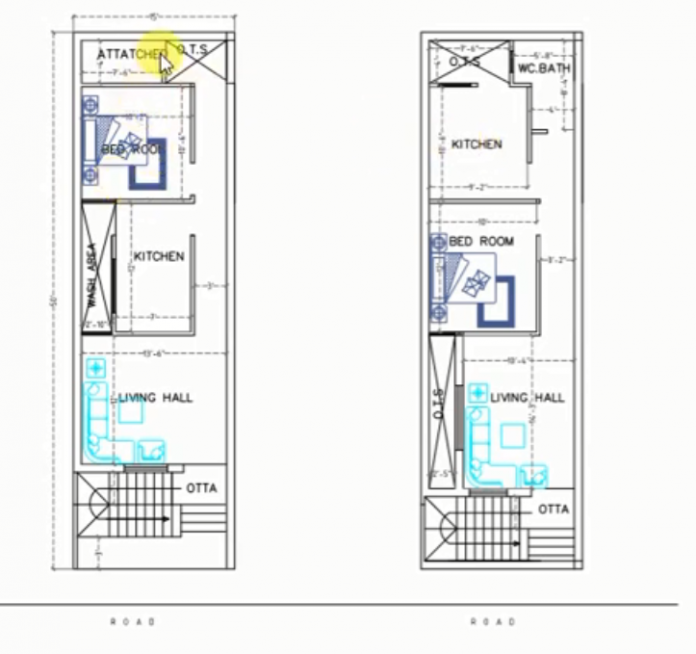 750 sq ft house plan in 15×50 feet plot size:
750 sq ft house plan made by our expert civil engineers and architects for one of the customers. You can use this house plan if your plot size is 15×50 feet or 750 sq ft. This 750 sq ft house plan is made by considering all ventilation and privacy, which will be obviously best for your new house. Before spending your money on making a new floor plan, you should see this post and obviously, it will going to save your money.
This 15×50 house plan will save your money and also give you the basic idea about how your house plan should be. In this house plan, we took external walls of 9 inches and internal walls of 4 inches.
This kind of house plan also called a row house, row house means, the row of a similar house that joined by the sidewall. Or also we can say that the sidewall of the row house is always common. This kind of house is always best if the width of your plot is small, you can always go for the row house. This kind of row houses seen mostly at the metro cities where they have a lack of area. It is the best solution for having a low width area.
I hope you understand the information we shared about the
15×50 house plan
. And thank you for seeing our post. Must share this if any of your friend or relative needs to know about this. Also visit our Youtube channel by clicking this link,
DK3DHOMEDESIGN
.