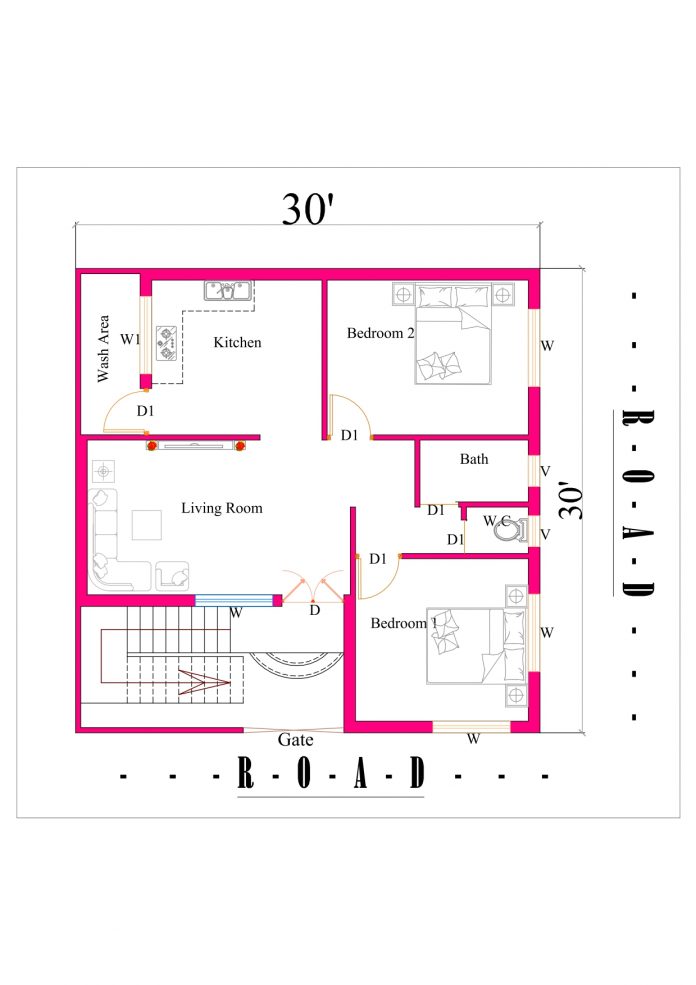 30×30 house plan which has 2 bedrooms that means it is 2Bhk house plan in 900 square feet plot area. This is the best 30×30 2bhk house plan all over the internet, which is made by our expert civil engineers and architects. When you tell a architect to make a new 30 x 30 house plan for your dream house, He will defentely make the best house plan for you. But what if you will get best house plan free of cost? And this is the only place for getting many house plans and designs for free of cost. If you have desirable sizes and requirements then it will cost a little only. Enough introduction! Lets move towards the 30×30 2bhk house plan in 900 feet plot area. The detailed information about this 900 sq ft 2 bhk house plan is as follows:
30×30 House Plan:
 Here we have given detailed information about this 30×30 2bhk house plan.
Area in feet: 900 sq. feet (109 guz)
Facing road: Northside and Westside
Exterior walls: 9 inches
Interior walls: 4 inches
Starting from the main gate, there is the staircase.
Stair Case:
The total area covered by the staircase is 6'3"x10'6" feet. These are also called Dog Legged staircase. Dog legged staircase is the most economical staircase. In this plan, each step consists of a 10-inch tread and a 7-inch riser. The tread is the flat part you step on and the riser is the vertical part between each tread.
you may also like to read: 30×40 East Facing Vastu Plan
Living Room:
In this 30×30 House Plan, The size of the living room is 17'x10' feet. The living room has one window. We can change the size of the window as per our requirement. The right side of the living room w.c bath area is given.
W.C. Bath Area:
W.C size is 4'x3' feet and the bathroom size is 7'X4' feet. On the right side only there is bedroom 1.
Bedroom 1:
In this 2 Bedroom House Plan, The bedroom 1 size is 11'2" X10'6" feet. Bedroom 1 has two windows. On the backside of the living room, there is a kitchen.
Also Read: 40×40 House Plan
Kitchen:
The kitchen is in the south-east corner of the house. The size of the kitchen is 11'x10' feet. There is another door in the kitchen towards the wash area. The kitchen has one window. On the right side of the kitchen, there is bedroom 2.
Bedroom 2:
In this 30×30 2BHK house plan, The bedroom 2 size is 13'X10' feet. It has one window.
30×30 2 BHK House Plan (900 square feet house plan)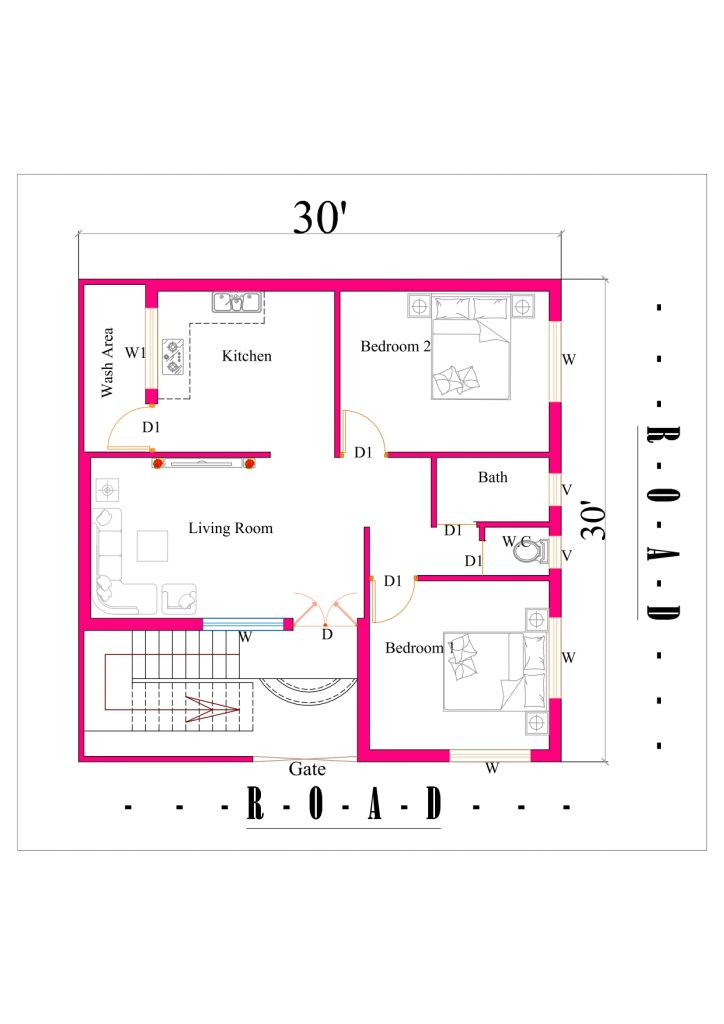 If you want to download this house plan AutoCAD file in dwg format, you can click here. 30×30 2bhk house plan download.
I hope you understand the information we shared about the 30 x 30 2bhk house plan. And thank you for seeing our post. Must share this if any of your friend or relative needs to know about this. Also visit our Youtube channel by clicking this link, DK3DHOMEDESIGN.