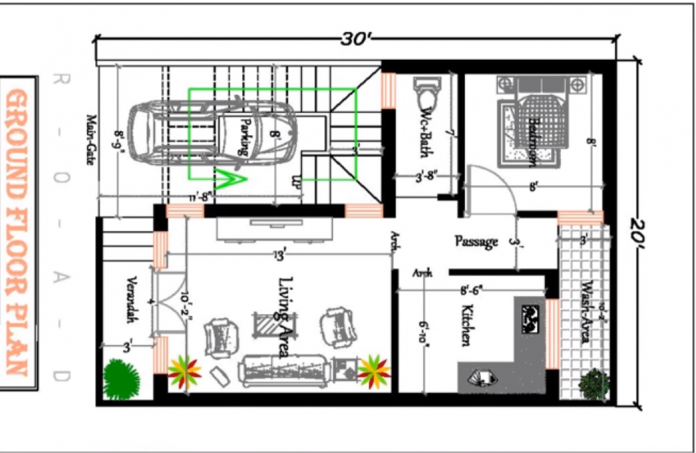 20×30 house plan is made by our expert civil engineers and architects by considering all the ventilation and privacy. This is 1 BHK house plan or we can say it single bedroom house plan. This 1 BHK house plan has a total area of 600 square feet means, 67.3129 guz.
This 20×30 house plan has stairs outside and also have the parking area. You can use this house plan if you have the same plot size. This 1 BHK house plan or single bedroom house plan has the following components with their sizes.
20×30 House Plan Components:
Parking Area: 8'9″x11'8″ Feet.
Verandah: 3′ feet.
Living Room: 10'2″x13′ feet.
Kitchen: 6'10″x8'6″ feet.
W.C. Bath: 7'x3'8″ feet.
Bedroom 8'x8′ feet.
Wash Area: 10'2″x3′ feet.
These were the sizes of each component of the 30×40 house plan with staircase and car parking area. This house plan is made for one of our customer according to their requirements. If you are planning to buy new floor plan for your house, You can use this 20×30 house plan as it is, This is going to save your money. And also if you don't want to use this house plan, You can contact us on below whatsapp numbers to get new one for you in reasonable rates.
Also watch this video if you wan to get deep information about this single bedroom house plan with staircase and car parking.
I hope you understand the information we shared about 20×30 house plan with car parking. And thank you for seeing our post. Must share this if any of your friend or relative needs to know about this. Also visit our Youtube channel by clicking this link, DK3DHOMEDESIGN.
If you need any of 2d house plan or 3d design service in affordable rates, You can contact us on these whatsapp number. +91 8275832374