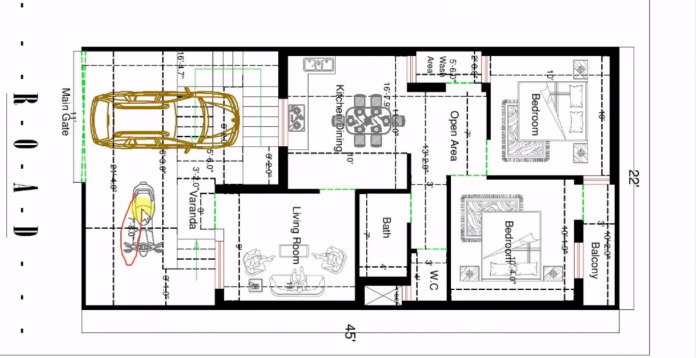 22×45 House plan:
22×45 house plan is made by our expert civil engineers and architects by considering all ventilation and privacy. This is the small house plan because its total area is only 990sq ft.  You can use this house plan if your plot size is 22×45 feet or near about it. It could be the house plan for your dream house.
This is a 2 bedroom house plan with car parking. If you are planning to buy a new floor plan of the same size. I will suggest you to check this house plan first before spending your money on a new one. And I am sure that this house plan going to save some bucks.
You can also watch this video to get more deep info about each and every component of this house plan. This house will help you to get the idea to select the best house plan for your house. In this house plan, we took the external wall of 9 inches and the internal wall of 4 inches. The more same information is explained so deeply in the video given below.
I hope you understand the information we shared about 22×45 ft house plan. And thank you for seeing our post. Must share this if any of your friend or relative needs to know about this. Also visit our Youtube channel by clicking this link, DK3DHOMEDESIGN.